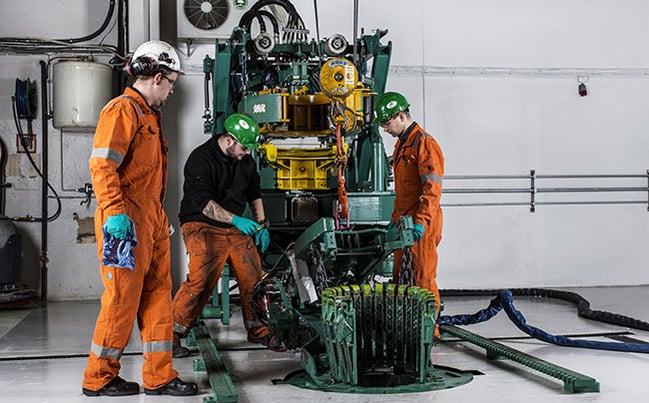 I guess most of you with some years in the industry remember the feeling of being a rookie. How you had no idea of the craft, or at least had not figured out how it all connects or relate to one another. I was a mechanic myself and had never been on a rig before. The QHSE-certification was the only oil related training I'd had. Showing up on the yard didn't exactly put the pieces together. It took some time before I could call myself a TRS operator.
Training stand
Back then, the only way to get hands-on experience was on the rig. It was an overwhelming experience, and there was no room for failure, of course. But I gradually got the scope of it and mastered the trade bit by bit.
Nowadays you still have to learn to crawl before you can walk, but at OWS we have a well equipped training stand on shore to teach new personnel modern and efficient casing running. The experienced crew also come here to certify themselves on new equipment, and customers get to see our tools in action.
OWS training Stand
Located at OWS headquarter in Stavanger.

Fully equipped casing running stand

Rotary table

Option for using FMS 275, FMS 375 and 20" FMS for 1000 tons

Casing tongs and scissor table on rails

TDCRTI from 5,3 meters

Manual tongs

Torque Turn Computer

OWS slips lifter with integrated safety clamp
Rig set-up
We have actually drilled a 10 meter hole in the ground and cemented in a casing with an ID of 14". We have all of the latest OWS gear of course. A Top Drive Casing Running Tool (TDCRTI) is mounted on a stand approximately 5 meters high. We can use flush mounted spiders or OWS slip lifters in the rotary and we have a complete radio operated scissor table running on rails. Exactly as it is on a rig. We always use OWS Torque Turn computers with the latest software version for graph interpretation. With this set-up we can run a few pup-joints of casing down, making it up and breaking it out with real life approach, indoors.
Hands-on
This safe environment is ideal for the freshmen to get a grip of the actual craft of casing running. They understand why a flush mount spider is required to run the TDCRTI; they can simulate a connection, and look at the recorded simulation from the Torque Turn Sub (TTS); they get the feel of how the TDCRTI is able to manoeuvre through difficult sections and they learn how everything looks and how it all works together: The tongs, the scissor table, the elevator, the slips and the Torque Turn Computer. Even though these guys have their oil industry education in place, this is where the bits and pieces really come together. Every OWS crew member comes here for training before going to the rig.
How to avoid NPT
We put a lot of effort into developing the candidate's eye for fault finding and daily maintenance. In this safe environment they learn to spot small issues during operations and deal with them before they cause larger breakdowns. It is much easier to explain the need for maintenance while the trainees use the gear and we can pinpoint the areas for greasing, adjustments etc. This prevents NPT and save clients' money.
Speaking of clients, we bring them here to get a realistic impression on how our tools work. This is especially handy when introducing new technology. Clients with operational experience are able to give us valuable feedback in the process of developing new tools.
We are also giving our clients the possibility to test out their new tools or connections in our facilities, using the latest TRS equipment in controlled environments.